<!==========================Lion=================>
NIKE EUROPE TRUCK

For Nike Europe, EEC Events developed in 1993 a very special promotion truck: THE NIKE PROMO TRUCK. This unique object was fitted out with a video big screen, sound equipment, an audio/video studio, and show lighting. The Nike Promo Truck has been used as a Nike onspot shop, mobile entertainment stage, promotion booth and eyecatcher.

For further NIKE.COM information click
NIKE PHOTO LEFT


<!==============================start text======================> From its start on May 20, 1994 till the year 2000, the fully self-supporting Nike Promotruck was 750 days on the road, visited 250 major sports-events between Sicily and Helsinki, during 500 action days and it drove 300'000 kilometers. Famous athletes like Agassi, Mike Powell, Heidi Drechsler, Irina Privalova, Dan O'Brien, John Drummond, Richard Krajicek, Romario, Ronaldo, Andy Muller and many others held authograph sessions on the Nike Promo Stage. But also Nike CEO Phil Knight visited his European stage. At events, the truck transformed into a complete Nike Shop, a Jury Shelter, platform for demonstrations, hospitality check-point or entertainment stage. A multi-disciplined crew of 2 persons was able to assemble the truck within 2 hours after arrival. Disassembling only took 45 minutes.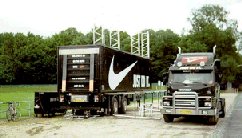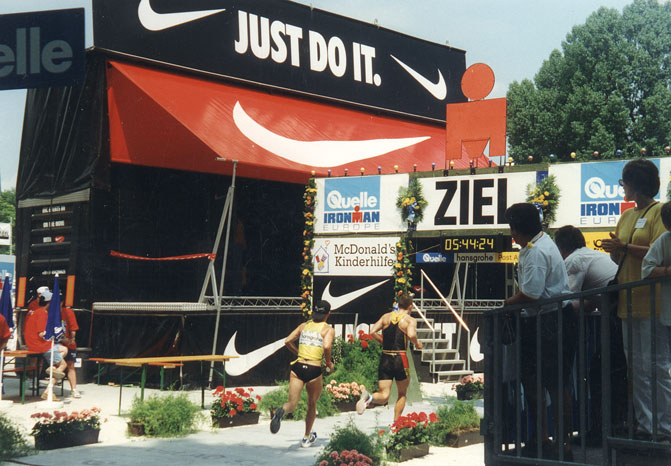 The Nike Promo Truck visited European Championships:

Athletics: in Brussels, Helsinki, Munich, Berlin, Neurenberg, (Half)Marathons, Athletissima, Nike Lady Runs.

Soccer: UEFA Cup Final in Paris, Eurocup-1 Finals/ Munich, Advertiser of the Year/Cannes, Nike Premier Cup Events, Reuse-A-Shoe Events throughout Europe, Rotterdam, Barcelona, Amsterdam, Berlin-Lisbon. National Soccer Team Games in Italy and The Netherlands.

Tennis: GODO-KITZBUHEL-ROSMALEN-ROLAND GAROS, and other major Tennis Tournaments.

Various: Indoor Athletic and Soccer Tournaments, Store Openings, Fairs and Bicycle Races.
<!==================end last big text td=====================================>


<!========================back=======================>

<!===========================payoff==========================>



---

<!=====================end text=============================>